Software Quinos POS adalah Software restoran terbaik dan terlengkap di indonesia Tepat untuk digunakan di restoran, cafe, bar, lounge, dan karaoke. Mudah digunakan dan memiliki fungsi lengkap. software yang terintegrasi mulai dari operasional, kitchen sampai laporan penjualan, perhitungan HPP dan cost. Dapat digunakan di berbagai jenis table seperti iPad, iPod Touch, Android / Galaxy Tab.
Aplikasi Quinos POS bisa terkoneksi ke zahir accounting

Table Layout
Customizable table layout according to the actual layout with color status to indicate available table, seated, ordered, and billed


Discount and Happy Hour
All discounts are configurable, you can setup by percentage or amount, allow subtotal discount, certain department, or even a particular item.


Membership and Loyalty Point
You can reward your customer by point each time they made a transaction, and the collected point can be redeemed later on.
Authorization Level
Each staff can have their own set of authorization level. This ensures that your staff can only access certain function of POS that they are allowed.


Stock Management
Quinos will deduct your stock each time an item is sold according to the recipe, this will help you to maintain your stock level at any time and never run out of anything.


Reservation
Take reservations via a POS station terminal and manage with a built-in reservation modules in Quinos POS System.


HQ Centralized Data
HQ Module allows you to manage all your outlets from 1 location. All data are automatically synced from your head office to all outlets via internet.


HQ Consolidated Report
All sales transaction are automatically synced back to the HQ so you will have a consolidated report from all your outlets.
Auto Email
Quinos POS automatically send Summary Sales Report every day, you can even configure it per shifts, or even per hour.

Berikut adalah screenshot dari Quinos POS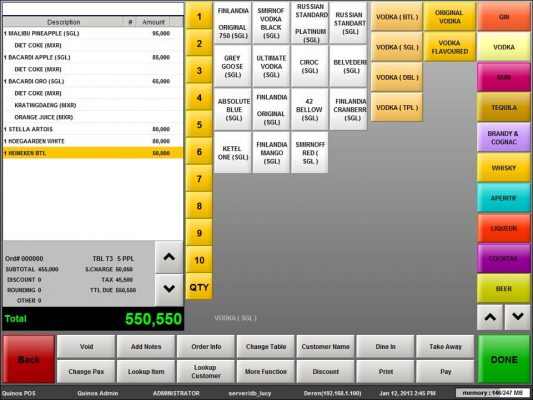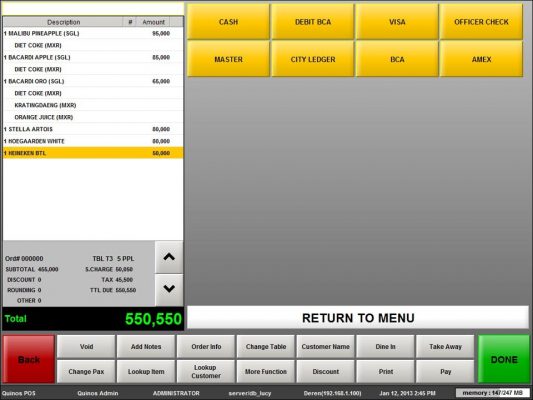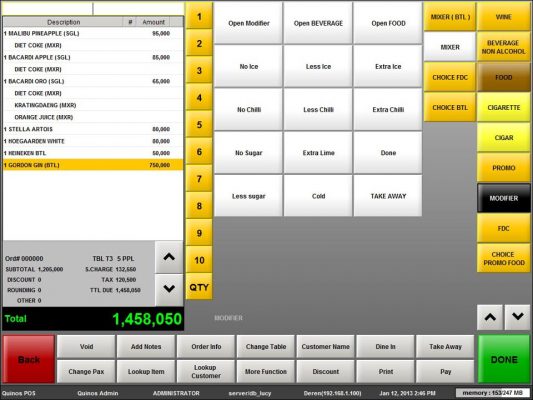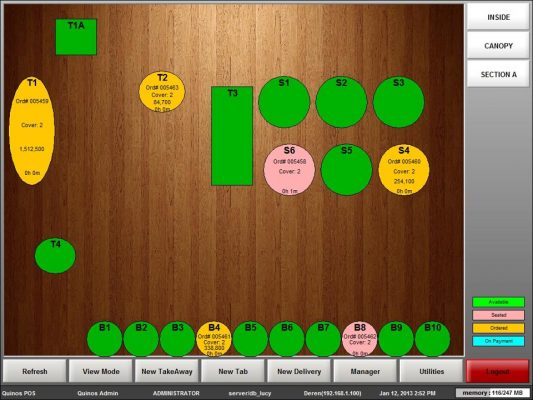 Zahir tidak memberikan layanan yang diberikan oleh pihak vendor connected Apps. Silakan melakukan pengecekan terlebih dahulu pada vendor connected Apps. Ingin software Anda didaftarkan di sini?